Session 1: Annual Meeting of the SCINet Geospatial Research Working Group
This page contains all the info you need to participate in Session 1 of the SCINet Geospatial Workshop 2020.
AGENDA
Workshop Organizing Committee
Rowan Gaffney, Physical Scientist, Ft Collins, CO
Kerrie Geil, SCINet Postdoc, Las Cruces, NM
Amy Hudson, SCINet Postdoc, Las Cruces, NM
Yanghui Kang, SCINet Postdoc, Beltsville, MD
Suzy Stillman, SCINet Postdoc, Las Cruces, NM


---
Session Rules
CHAT QUESTIONS/COMMENTS TAKE FIRST PRIORITY - Chat your question/comments either to everyone (preferred) or to the chat moderator (Rowan Gaffney) privately to have your question/comment read out loud anonamously. We will answer chat questions first and call on people who have written in the chat before we take questions from raised hands.
SHARE YOUR VIDEO WHEN SPEAKING - If your internet plan/connectivity allows, please share your video when speaking.
KEEP YOURSELF ON MUTE - Please mute yourself unless you are called on.


---
What is the SCINet Geospatial Research Working Group?
See our working group page on the SCINet website.
Our main goals are to:
provide continued input on the development of SCINet,
improve the computational capacity of ARS geospatial researchers, and
develop collaborative research projects.
The goals of the 2020 workshop are to:
provide hands-on learning using the Ceres high-performance computing (HPC) system to conduct geospatial and machine learning research,
foster research efforts that had previously been un-attainable due to technical limitations or inexperience, and
inspire new research ideas and collaborations.
---
Review of the 2019 Workshop
2019 Workshop Agenda and Participants (opens pdf)
2019 Workshop Notes (opens pdf)
At last year's workshop we:
heard from ARS scientists about successes and challenges of using SCINet for geospatial analysis,
identified common issues and barriers to using SCINet for geospatial research workflows,
generated recommendations for overcoming these issues/barriers,
created the SCINet Geospatial Research Working Group to follow through with workshop recommendations, and
learned about machine learning, deep learning, and some of the ways ML/DL are being used for research at New Mexico State University and the Jornada Experimental Range.
Computational Needs of the ARS Geospatial Research Community:
data access, sharing, and storage

securely store data
rapid access to data
share large data files that aren't publicly available
make research data publicly assessible (distribution and archiving)
access to AgCROS and PDI data servers from SCINet

reproducibility and collaboration

improve data provenance and versioning
collaborate on models and code development in real time

computation and data manipulation

explore/visualize large data
build capacity for using SCINet/HPC and knowing when to use
cloud computing and storage for operational projects with large input and output data
decision support/agro-informatics applications for our stakeholders
Recommendations for improving access to SCINet HPC/cloud computing and enhancing general computational skill in the ARS geospatial research community:
Key: progress made in FY20, progress beginning FY21
A) Improve data access, sharing, and storage.
Implement better methods for getting massive input data into the computational environment.

Build/expand higher speed connections to SCINet.

Build a common data library on SCINet to reduce duplication of popular datasets and reduce the barrier to adopting HPC workflows.

Hold trainings in data management for long-term datasets and archiving of data from retired scientists.
B) Enhance reproducibility of our science and increase collaboration.
Hold trainings on using Git, containers, and other reproducibility tools.

Hold hands-on group work sessions in R and Python.
C) Build capacity for using HPC/cloud computing.
Hold trainings on how to access and compute on the SCINet HPC systems (including how to parallelize code) to reduce the learning curve.

Develop a collection of tutorials from ag/geo-relevant applications with example scripts that run on the SCINet HPCs, including ML/DL techniques. (Geospatial Workbook)

Hire personnel, including postdocs, with multi-disciplinary computational backgrounds.

Hold trainings in R, Python, and Unix through The Carpentries or similar.

Repeat the 2019 AI Training by Adam Rivers and University of Florida collaborators.

Hold trainings in image processing.
D) Expand SCINet HPC system software, hardware, and support to focus on our research community needs.
Contract a "GeoTeam" that would help our research community with workflow development, parallelization, and code optimization.
Deploy a better forum for searchable SCINet questions/answers.
Purchase community GPUs when the priority GPU gets to be a limited resource.
Install Pix4D Engine software on SCINet.
---
Details on the Upcoming 2020 Sessions
The following links will take to you to our workshop homepage where you can register for each session if you haven't already.
If you are unable to join a session, you will still be able to access and work through all the tutorials on your own using the session tabs at the top of our workshop homepage. We will also eventually make the Zoom recordings available as well.
Preparation for the tutorial sessions (2, 3, 4, 5)
The most important item is make sure you can successfully login to your SCINet account before (preferably days before) the tutorials start. There are many tutorial registrants with expired passwords that may need assistance from the SCINet Virtual Research Support Core (VRSC) if old passwords have been forgotten. If it's your first time logging in, use the Quick Start Guide and if you are still having trouble and contact the VRSC for help scinet_vrsc@usda.gov.
Try to set yourself up on a large monitor or Google how to connect your laptop to your tv. Ideally, you will want enough screen space to have a side by side set up where one side is the live Zoom session and the other side you can have JupyterLab open in a browser window so you can work through the tutorials in real time. This set up is nearly impossible on a laptop screen alone.
If you plan to follow along with the Git/Github portion of the Session 4 Tutorial: Computational Reproducibility Tools, Create a free personal Github account. Make sure you remember your Github username and password.
Lastly, visit the premeeting page to familiarize yourself with the software/HPC terminology that will be used in the tutorial sessions.


Other Upcoming Activities of the Working Group
We're planning to hold a working group Zoom session quarterly at minimum (monthly if we have enough content ideas).
The sessions could include:
research presentations from inside or outside ARS,
short tutorials or demonstrations of software or computational techniques,
productivity presentations such as

how to design collaborative research,
how to make better scientific figures/presentations,
reproducible workflow techniques and HPC etiquette, etc.

working sessions for

common data library
geospatial workbook
bring your own coding question/data problem

development of new cross-location research ideas
Discussion Question: What content would you like to see in quarterly working group meetings?
Discussion Notes:
ENVI/IDL training/tutorials for satellite data processing
Sessions for informal coding questions in various languages
Session on data persistence on Ceres. For example, if a model outputs a large amount of results how long can this data stay on CERES? Does it stay for the lifecycle of the study which could be multiple years? Or how do we design the studies to account for the data storage?
---
Introduction to the SCINet Postdocs
The first cohort of postdocs funded by the SCINet Computing Initiative has arrived at ARS! SCINet postdocs are tasked with developing cross-site collaborative research projects that utilize the ARS SCINet high-performance computing resources. They will also contribute to non-research projects that further the SCINet Computing Initiative such as the SCINet website, newsletter, and various computational trainings. Here is a short introduction to everyone.
Ibukun (Timothy) Ayankojo
Bio coming soon
Jennifer Chang, Bioinformatics Scientist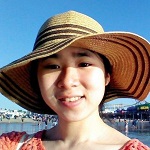 Jennifer Chang grew up in Wisconsin and has been programming since 2006. At Cornell College, she double majored in Biochemistry and Computer Science graduating in 2011. In 2017, Jennifer earned a PhD in bioinformatics from Iowa State University. During the PhD, her research software "Mango Graph Studio" led to co-founding a software company and working on two Department of Defense Small Business Innovation Research (SBIR) contracts. She eventually left the company and was a postdoc with Dr. Amy Vincent at USDA-ARS, automating swine influenza reports from 2017-2020. In June 2020, Jennifer shifted to a SCINet postdoc position with Dr. Andrew Severin and Dr. Brian Scheffler where she collaborates on the bioinformatics workbook. She's still in Ames, Iowa, learning slurm and automating pipelines for different hardware architectures. She hopes to write flexible general-purpose pipelines that reduce tedium and increase joy of discovery. Jennifer cares about collaboration, welcoming environments, and teaching.
Alicia Foxx, Ecologist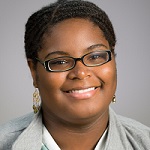 Alicia started the SCINet Postdoc position in June 2020, working out of Gainesville, FL with Dr. Adam Rivers as her supervisor. She completed her PhD in plant biology and conservation from the joint program between Northwestern University and the Chicago Botanic Garden in Illinois. Her research used restoration-relevant native plants of the Colorado Plateau and focused on the implications of root traits on plant interactions and species coexistence and the role population variation played in those traits and interactions. This work Incorporated manipulative experimental work and meta-analytic methods to address these questions with the goal of to inform ecological theory and to provide recommendations on native plant material based on their performance. The work she is performing in the SCINet Postdoc position is applied machine learning on microbial communities and includes interrogating applications of machine learning in bioinformatics and the impacts of data distribution on algorithm performance and developing machine learning models to describe antibiotic and hand sanitizer resistance.
Kerrie Geil, Climate Scientist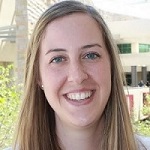 Kerrie served as a AAAS Policy Fellow at USDA ARS in Beltsville MD from 2018-2020 and has recently transitioned in July to a SCINet Postdoc position in Las Cruces, NM in the research group of Dr. Deb Peters. She received her PhD in Atmospheric Sciences from the University of Arizona in 2016 and her research background is in global and regional climate modeling and climate model performance evaluation using in-situ and satellite observations. Kerrie has expertise in global-, continental-, and regional- scale climate dynamics including teleconnections/climate oscillations (ENSO, PDO, etc.), land-atmosphere-ocean interactions, and the North American Monsoon system. She has also worked on national- and local- scale extreme temperature projects. One of the projects Kerrie hopes to accomplish during her time as a postdoc at ARS is a climate model evaluation tool to make the process of model ensemble selection (e.g. which downscaled models should be excluded from your analyses due to the garbage in garbage out principle) simpler and quicker for research scientists.
Lucas Heintzman
Bio coming soon
Amy Hudson, Climate Ecologist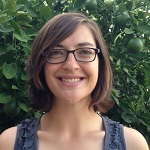 Amy began her SCINet postdoc in May 2020 working with Dr. Debra Peters in Las Cruces, NM after recently completing a PhD in Natural Resources from the University of Arizona. Her research background is in examining climate-ecosystem interactions at regional to hemispheric scales by integrating multiple data sources. Past projects have focused on how changes in the Northern Hemisphere jet stream influence surface climate conditions, with impacts on the length of the growing season and continental insect migration. By leveraging signatures of climate on annual tree growth, Amy has also worked on teams to reconstruct Hadley Cell extent and summer temperatures in the US Northern Rockies, lending historical context to recent observed climate. Amy is currently involved in ARS research projects that include 1) a cross-site synthesis of the impacts of climate on long-term ecology at dryland sites and 2) determining the influence of broadscale climate on the spatial spread of the vector-borne virus Vesicular Stomatitis.
Melanie Kammerer, Ecologist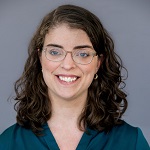 Melanie is an agroecologist and landscape ecologist, and, in September, she will be starting as a SCINet postdoc in State College, PA mentored by Drs. Sarah Goslee and Deb Peters. Melanie recently completed a USDA NIFA pre-doctoral fellowship during her PhD in Ecology at Penn State University. In her graduate research, Melanie studied landscape and climate drivers of wild-bee communities using long-term population monitoring data, new field studies, and high-resolution landscape characterization. She also has extensive expertise in spatial modelling of bee communities, which she leveraged to explore changes in floral resources for wild bees with shifting herbicide use in US field crops. In addition to her research, Melanie served as lead data wrangler for Beescape (beescape.org), an interactive mapping application that allows scientists, beekeepers, and land managers to easily evaluate landscape quality for bees. Melanie is deeply committed to open, reproducible science that is accessible to and informed by diverse stakeholders, which she is excited to continue with the vibrant ARS SCINet community.
Yanghui Kang, Physical Scientist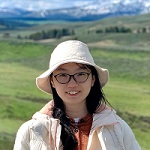 Yanghui started her SCINet Postdoc position in May 2020 after receiving a Ph.D. degree in Geography from the University of Wisconsin-Madison. She works with Dr. Feng Gao and Dr. Martha Anderson at the Hydrology and Remote Sensing Laboratory in the Beltsville Agricultural Research Center, Beltsville, Maryland. Yanghui's research projects have focused on the large-scale high-resolution monitoring of core agroecosystem variables (e.g., Leaf Area Index (LAI), crop yield), with the help of satellite remote sensing, machine learning, crop growth modeling, and data assimilation techniques. At ARS, Yanghui is currently developing a machine-learning-based approach to map LAI from Landsat and Sentinel-2 images over the entire globe. She is also interested in deriving crop phenological stages from satellite observations and monitoring agroecosystem dynamics through data assimilation.
Suzy Stillman, Climate Scientist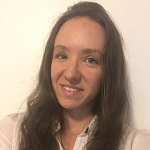 Suzy began working as a SCINet Postdoc in Las Cruces, NM in Dr. Deb Peters' research group in July, 2020. After receiving her PhD in hydrometeorology from the University of Arizona, she worked at the Desert Research Institute in Las Vegas, NV, where her main research focus included climate analyses for DoD and DoE. Her background is in evaluating and improving the hydrologic observing system through combining data from a variety of sources. Some of her research that excites her most includes working towards understanding the impact of atmospheric rivers on Colorado River yield and the influence of topography on precipitation in the western US. Her research interests include making the best use of the already available suite of hydrologic observational data to gain a better understanding of the future hydroclimate.
Shawn Taylor, Ecologist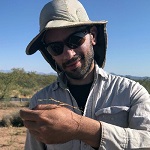 Shawn is currently a postdoc at the USDA-ARS Jornada Experimental Range in Las Cruces, NM working with Dr. Dawn Browning. He is currently integrating large streams of sensor data across the Long Term Agricultural Research (LTAR) network to help promote increased production and sustainability. Shawn obtained his PhD from the University of Florida in 2019, where he researched best practices in ecological forecasting and implemented a continental scale phenology forecast. He will begin his SCINet postdoc in October, 2020.
---
Working Session: SCINet Common Data Library
Lead: Yanghui Kang, SCINet Postdoc
During the 2019 SCINet Geospatial Workshop, the working group identified the need to develop a shared repository to serve commmonly used geospatial datasets to ARS users. The common data library/repository aims to enable easy access to popular datasets and reduce the barrier of adoption for SCINet HPC clusters. Before the 2020 SCINet Geospatial Workshop, we invited the working group and workshop participants to complete a survey about the data and computational needs of ARS geospatial researches and applications. In this session, we will present the preliminary results of the survey and discuss important aspects of the common data library development.
Tentative Agenda
Brief introduction (5 mins)
Preliminary results of the SCINet Geospatial Data and Computational Needs Survey (10 mins)
Discuss (45 mins)

What kind of datasets and which ones will be stored on the clusters?
How to store, manage, and serve data to the users?
How to allow easy access to data that does not make it to the library/repository?
Other topics brought by the audience …
Discussion Notes:
Q: Will the Common Data Library offer security for highly sensitive data?
A: We Will probably only store publicly available data in the common data library. The library will be accessible by everyone on Ceres so we won't be able to put data with PII or other sensitive data in it. Developing a shared spaced for sensitive data with access available only to a small group of Ceres users should be spearheaded by those with the sensitive data with assistance from the SCINet VRSC.
Q: Can we store high spatial or high temporal resolution data in the common data library?
A: We are not creating a data center and do not know how much storage we will have on SCINet for the common data library. We will need to communicate our needs to SCINet leadership and work with them to have space carved out for the libary. We will certainly not be able to store very large data (i.e. the LandSAT archive), but may store subsets of large dataset. For example, for a large dataset organized by site, we could store one site and then share a code/workflow for accessing/downloading the data from other sites. These types of details will be worked on in follow-on meetings about the common data library.
Q: What is the relationship between SCINet and the authors of the datasets we store there and how do we site data from the common data library?
A: We are intending to store mostly publicly available data in the common data library. There would be no relationship between the data author and SCINet. You would cite data you used from the common data library in the manner that is requested by the data authors- referencing the original source of the data, not the common data library. Maybe the common data library should provide metadata on how to cite each dataset. You should also be citing/acknowledging your use of SCINet- guidance on acknowledging SCINet can be found in the SCINet Quick Start Guide.
Q: How do we deal with updated versions of datasets?
A: We will have to store metadata including download date, version, etc.
C: Some datasets already have good APIs for obtaining the data – this should be considered when deciding which data to host. For example if you just need timeseries for individual locations from daymet, their API can provide this in a few minutes. But MODIS datasets have always been a pain to obtain, so that would be a great one to host.
Q: After downloading, it can be quite time consuming to stitch together raster datasets that are distributed as tiles (like aerial imagery). Would the common data library provide access to the individual tiles or could there be an option to obtain a larger spatial area as one raster file?
A: This is probably out of scope for the common data library project, but depending on how the project develops we could possibly add this to a future wish list.
---
Working Session: Geospatial Workbook
Lead: Kerrie Geil, SCINet Postdoc
One product generated by our working group will be the geospatial workbook, which will be an online resource with all kinds of useful information for the USDA-ARS geospatial research community. Styled after the bioinformatics workbook, the geospatial workbook will contain computing and data visualization tutorials, research best practices, and more. This effort is just beginning, lead by Kerrie Geil and Andrew Severin, but we hope to have contributions from many of the working group members.
Discussion Questions:
What content do we want in the Geospatial Workbook?
What content formats are the most useful?
Are there best practices that exist in our research community that we should cover?
What's the process for contributing content to the workbook?
Discussion Notes:
Content Ideas
Share common applications and work flows for downloading/subsetting data
Recipe/example application of ENVI/IDL in the GS Workbook
Spectral unmixing analysis
The same analysis but written in multiple languages could be really helpful
Provide a good example of a publication supplement in a Jupyter Notebook format
A couple tutorials that give examples of individual scripts, then a different tutorial showing how they could be run in sequence using Nextflow
embarassingly parallel example using Python- specifically a workflow that runs a Python script many times with different input data for each job
How to get a DOI for your container/analysis scripts
Document how to access wsl2 – Windows Subsystem Linux
C: We could poll our community to find out what are some low hanging fruit as far as repeated analyses, like querying a zone or a set of points in a data cube.
C: I'm in favor of running inside docker containers as it's much more flexible although a bit more to setup. However, in the end you will then have all the code and more importantly, runtime environment, that the study used which you can get a DOI for. There is a great interface with VS Code which has built in jupyter support.
Q: Who can contribute to the geospatial workbook?
A: Anyone associated with USDA-ARS with relevant content to contribute! An example code or short tutorial can be made out of almost any research analysis. We hope that many of our members (and non-members of the working group) will contribute content.
Q: How do we contribute content to the geospatial workbook?
A: For experienced Github users you can do a pull request to the workbook's github repo (once it's created). If you aren't experienced with Github, you can contact Andrew Severin's team at gifhelp @ iastate.edu with content.
C: The main focus of the geospatial workbook (at least in the beginning) will be tutorials that deal with heavy computing and run on the ARS HPC systems. We can eventually expand the workbook to include tutorials that run on laptops.
C: There is software called Nextflow Pipeline – wrapper around scripts – that allows you to deploy various codes in parallel on an HPC system and has built in support for containers. This software is used currently in ARS by our bioinformaticians. The geospatial research community should look into whether this software can be helpful to us.
---
Proposals for New Working Group Initiatives
Discussion Question: What other projects should the working group pursue to enhance access to and use of high-performance computing and to improve ARS researcher computing skills in general?
Discussion Notes:
C: Continuity of online training even after COVID would be good. This helps to include people from various backgrounds who would not necessarily be able to justify traveling to their RLs but are still interested in these topics.
C: I think SCINet has some Amazon Cloud agreements which are not well utilized. Or not readily available. Maybe the group can help get clarity on what cloud computing is available through SCINet
Q: Do we still want to pursue contracting a "GeoTeam", which was one of the original recommendations made by this group last year? The GeoTeam would help our research community with workflow development, parallelization, and code optimization.
A: We should first identify needs that a GeoTeam could help us with. But we could also first look to the VRSC to help with workflow development, parallelization, and code optimization. The next time we have questions/need help in these areas let's contact the VRSC for help and see how their staff can assist us. It's important to note though that the VRSC is not going to conduct your analysis for you!